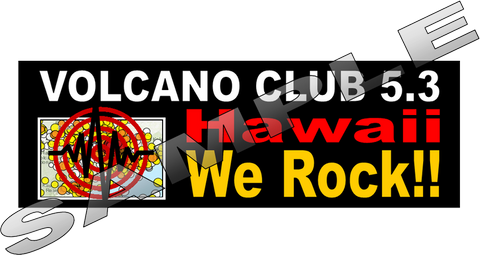 Volcano Club 5.3 Bumper Sticker
Volcano Rocks!!
IN STOCK NOW!!
Beautiful 6"x2" Bumper / Window Sticker
to show you were here, you followed the Volcano Eruption, or just to say you Love Volcano! This is a vinyl bumper sticker that will not damage your car.
Postage is included !!. We plan to also have these avaialble at the local stores very shortly.

We created the Club 5.3 Logo as a symbol for saying "I was there" or you followed the Volcano Eruption and know what "5.3" stands for, or just to say you LOVE and SUPPORT Volcano. To be part of the Volcano Club 5.3 means sharing that we are all in the same boat when it comes to our worries and concerns regarding what the future will bring for the place we call "home". We hope for the best and prepare for the worst. Yesterday is done, we live for today, and nobody knows what tomorrow brings, which is true everywhere, no matter where you live in the world.


Please display this sticker proudly to share that you LOVE VOLCANO - CLUB 5.3 - VOLCANO ROCKS!
Club 5.3 Bumper Sticker Specs
Overal size: 6" wide, 2" tall
Shipped via 1st Class Mail
Credit Card not charged till item is shipped.