Volcano Wilderness Run II
This is a gorgeous HANDMADE Volcano Wilderness Run Pendant from our exclusive Dietrich Varez "Wearable Art" Jewelry Collection.


Depicted are two runners admist a giant Hapuu Fern predominantely found in the Hawaiian Upland Rainforest of Volcano and of course the erupting Kilauea Volcano. Each pendant is handmade right here in Volcano on the Big Island of Hawaii.
Choose from gorgeous tarnish resistant 925 Sterling Silver or luxurious 24K Gold over Sterling ( Vermeil). This is a piece of Hawaiian Jewelry that will last a lifetime.
Dietrich Varez is one of the most beloved artists in Hawaii and his signature brown and white block prints are known throughout the islands. Volcano Artists & Jewelry Designers, Ken and Bea Arnopole, have have collaborated with Dietrich and created this beautiful unique pendant. A perfect gift for any running enthusiast! Especially if you love Hawaii!
Sign Up On Our Mailing List

SIGN UP ON OUR MAILING LIST and we will send you a
Coupon to SAVE $50 on your first order!!
You will also receive notices of new designs as they become available, and special offers for subrscribers only.
Volcano Wilderness Run Pendant II - Product Specs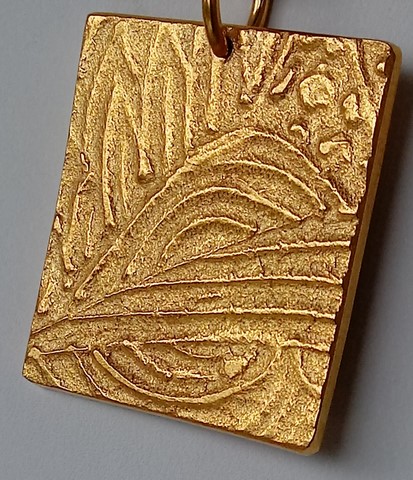 Handmade in Volcano Village, on the Big Island of Hawaii.
Pendant Size: 19 mm wide x 21 mm tall
Each pendant has its own unique hand-sculpted design, and now also includes our Jewelers Mark and the 925 Sterling Stamp (not pictured here).
Chain Optional (Purchase separately )
Avaialble in 925 Sterling Silver or 24K Gold over Sterling Silver ( Vermeil )
FREE SHIPPING