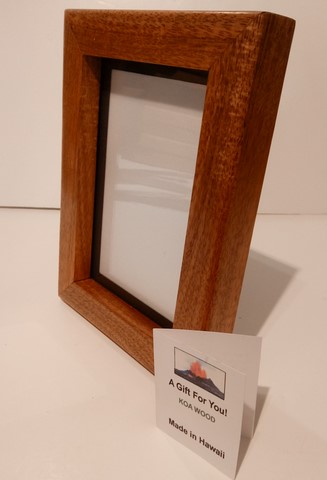 Solid Koa Wood Frames
Solid Koa Wood Frames Handmade in Volcano, Hawaii.

We have two styles of standard Koa Wood Frames available. Style 1 is a modern look square edge frame, Style 2 is an outside Roundover Edge Frame for a softer look .
4x6, 5x7, and 8x10 frames include an black easel back and can be displayed vertical or horizontal. 11x14, 16x20, and custom frames include foam board backing and hangers for both vertical and horizontal display. Smaller frames can have added hanger attached if requested. ( Please specify as a note with your order ) Acrylic Glass included.
We only offer SOLID Koa Wood frames. ( NO VENEER!) . These frames are beautiful and will be cherished for a lifetime. Koa Wood comes in all kinds of colors and grain patterns, so each frame is unique and variations in actual look are normal.
We also make custom frames for mirrors, shaddow boxes, flag boxes, and deeper frames for canvas art. You can easily transform any existing frame to a wonderful mirror by purchasing a mirror glass insert from your local glass shop. ( sorry.. but we don't ship mirror glass due to the high breakage potential during shipping ).

If you are in the Volcano area we will also be happy to mount your artwork or collectible for you. Special requests..just ask!
Koa Wood is considered the Wood of Royalty and given typically as a gift of appreciation. It is predominately from the Big Island of Hawaii where skilled craftspeople use even the smallest of leftover wood to create things of beauty. No wood is ever wasted, and new Koa Wood trees are planted on upland rainforest propertis in Volcano on the Big Island of Hawaii to insure there will be Koa Wood trees for the next generations.
** Shipping is charged at cost. As each items has a different shipping cost our shopping cart does not reflect the shipping cost and we will confirm the actual cost upon receipt of your order for your approval.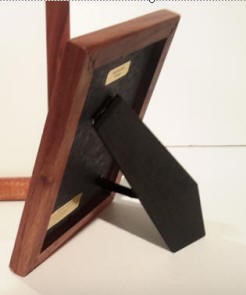 Frame Sizes:

4x6 frame holds on 4x6 photo or a 3x5 photo with mat.

5x7 frame holds a 5x7 photo or a 4x6 photo with mat.

8x10 frame holds a 8x10 photo or a 5x7 photo with mat.

11x14 frame holds a 11x14 photo or a 8x10 with mat.

16x20 frame holds a 16x20 photo or a 11x14 with mat.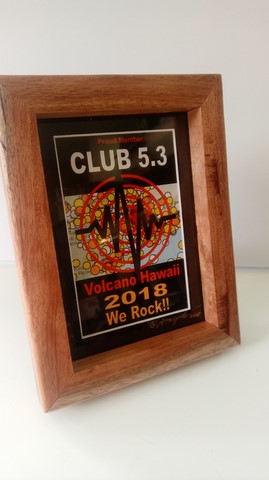 Solid Koa Wood Frames Specs
All our Koa Wood frames are handmade right in Volcano Village, next to Hawaii Volcanoes National Park by skilled artisan hands.
Please support our local cummunity Artists and Craftspeople!
Solid Koa Wood Frames
Available in standard sizes 4x6, 5x7, 8x10, 11x14, 16x20.
1" wide Frame molding
Custom Orders welcome.
Shipped via Priority Mail at Cost
Credit Card not charged till your order is ready to ship.
Quantity Orders for Events, Conferences, or Corporate Incentive Gifts Welcome.

Quantity Price Discounts available.